Puregold Price Club Inc.

Cosco's flagship grocery retail chain, first opened in Mandaluyong City in 1998. Marking its 20th Anniversary in 2018, the retail giant delivered another strong performance and solidified its position as a leader in the country's grocery retail industry.

Since its founding, Puregold has continuously expanded its nationwide retail network through organic expansion and strategic acquisition. To grow its market coverage and share, it introduced another store format in 2008 called the Puregold Jr. Supermarket, a smaller store carrying a variety of products. Two years later, Puregold Extra was launched—an even smaller yet similarly successful store chain. Through its various store formats, the company saw a significant increase in sales which in turn prompted more expansion opportunities.

Puregold continued its strong revenue growth in 2018, driven by the opening of 30 new stores across the country. The company currently operates a total of 354 groceries nationwide, with 125 located in Metro Manila, 93 in Northern Luzon, 101 in Southern Luzon, 25 in Visayas and 10 in Mindanao. Net selling area at the end of the year also reached to 452,609 square meters.

Puregold ended the year with revenues amounting to PHP109.47 billion, an 11% increase from the previous year's PHP98.62 billion.

To continuously sustain its robust growth, Puregold is set to pursue acquisitions and expand its reach to new locations nationwide. The company is in fact targeting the opening of 25 additional grocery stores in 2019 and has allotted PHP1 billion for capital expenditures.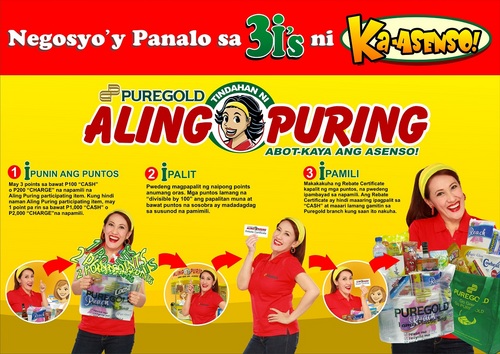 Tindahan ni Aling Puring
Puregold launched its Tindahan ni Aling Puring (TNAP) in 2003. TNAP is a customized membership program designed specifically for Puregold's primary customers from the Micro, Small and Medium Enterprises (MSME's) such as the sari-sari stores, minimarts, karinderyas, catering and other types of resellers.
TNAP members are also called Puregold Ka-Asenso's!
Tindahan ni Aling Puring has 2 Types of Card Membership, the Green Card and Gold Card.
TNAP Green card is the entry-level card of new and active members of Tindahan ni Aling Puring. This card may be used at any Puregold Price Club or Puregold Extra store.
TNAP Gold card is awarded to members who reach a minimum purchase of 1.3 million annually.
Gold Members are given the following additional benifits:
- Gold Plus Points and Gold Rewards (An incentive Program which rewards members when they reach set purchase target.
- Gold WIN - Welfare Insurance (A grant and access to Accident, death, Disablement & Calamity Insurance for Welfare and Business Continuity.

PERKS Card
The "Perks Card" is a loyalty card program that rewards the shoppers with points every time they shop at Puregold Price Club, Puregold Junior and Puregold Extra.
Puregold Price Club Inc.is our signature hypermarket format through which we conduct our primary operations. Needless to say, it remains our biggest contributor to both revenue and gross profit. Close to or at the center of urban hubs, every store offers a wide variety of food and non-food products, with a customer base that ranges from retail customers to small business owners who re-sell products through community (sari-sari) stores, mini-mart, cafeterias, restaurants, bakeries, and pharmacies. Each store offers 30,000 to 50,000 SKU's with the average net selling area of 3,000 sqm.
Launched in 2008 to serve retail customers in residential areas, Puregold Jr supermarkets are offering targeted consumer items and a limited variety of general merchandise, without wholesale operations. They offer a higher proportion of food to non-food products with emphasis on fresh products. While its basic store layout is similar to the original hypermarket, these outlets are considerably smaller. The net selling space of a Puregold Jr. outlet is 900 sqm. And carries around 5,000-8,000 SKU's.
Featuring top selling brands and products across all categories, Puregold Extra offers a more limited number of consumer goods- but this doesn't mean it packs any less of a punch. Launched in 2010, it functions as a top-up store in small communities along side sari-sari stores already in place in the neighborhood. Smaller than our hypermarkets, Puregold Extra possesses an average net selling area of 400 sqm., carrying 1,500 to 2,000 SKU's
We love to hear from you. Please contact us.
Puregold Price Club, Inc.
Head Office

No. 900 Romualdez Street, Paco
Manila, Philippines

TEL NOS.: (02) 522-8801-04

FAX NO.: (02) 523-3055